Pine wood jewelry box with vintage engraving
You want to offer a beautiful vintage wooden jewelry box or simply treat yourself? This model should please you thanks to its different drawers and its large mirror. On one side you will find 4 golden steel hooks for your necklaces or pendants and on the other side 14 places to store your earrings and a pocket for your watches or bracelets. The top of the box is made of 8 velvet rolls for rings or signet rings and 6 small compartments for your little treasures.
In the first drawer you will find 9 compartments, in the second drawer 4 small compartments and the last drawer is a large storage space. This wooden jewelry box has a beautiful finish as it is made from pine wood, a velvet interior and is assembled with sturdy golden hinges. It is available in mahogany or light wood with a choice of different engravings on the top of the box. No more excuses to store your beautiful jewelry collection!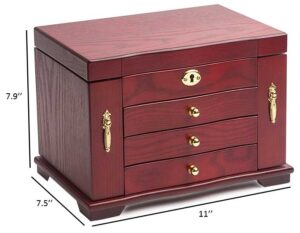 If you would like a similar style but larger, check out our large vintage wooden jewelry box and its many drawers. If you prefer a completely different style of storage box, we invite you to browse our collection of wooden jewelry boxes, as well as all of our jewelry boxes.