Large pine wood jewelry box with mirror and drawers
This large vintage wooden jewelry box is beautifully finished with gold handles and a soft velvet interior. On one side you will find 8 steel hooks to hang your necklaces or pendants and on the other side 27 grooves to store your earrings. Both sides have a practical pocket for your watches or bracelets.
The top of the box contains 8 velvet rolls for your rings, signet rings or earrings and 6 small compartments for small ornaments. The first drawer has 9 identical compartments, the second drawer has 4 large compartments, the third has 3 long compartments for your watches and bracelets and the last drawer is a storage unit by itself. This large wooden jewelry box is very functional and will be perfect for storing and organizing your jewelry collection!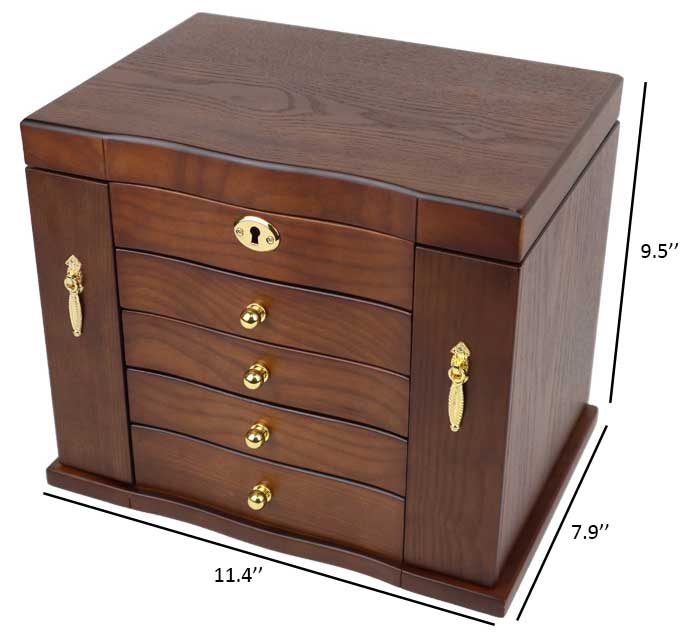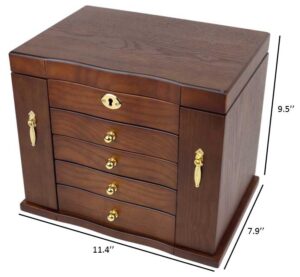 For a smaller, more modern style, opt for our wood glass top jewelry box. Or maybe you prefer a completely different style for your jewelry, we invite you to discover our wood jewelry box collection, as well as all of our jewelry boxes.