Green velvet jewelry box with embroidery and drawer
This beautiful green vintage velvet jewelry box is beautifully finished with an embroidery of a flower and a dragonfly. This model has more than 40 earring compartments, 15 hooks for your necklaces and a drawer. Its ultra soft velvet finish and embroidery gives this box a modern and original touch that we love!
Inside you'll find 9 ring holders and a watch holder. Under the earrings storage you have 9 small compartments that can be converted into one large storage.
The drawer contains 4 large compartments and two smaller ones, all of which are fully removable if you prefer to use it as a large drawer. Our vintage velvet jewelry box will allow all young women to protect their most beautiful jewelry from UV and oxidation. Especially if you have a large jewelry collection including necklaces and rings!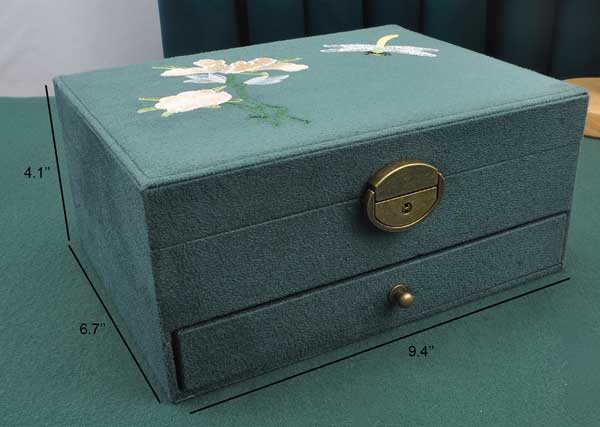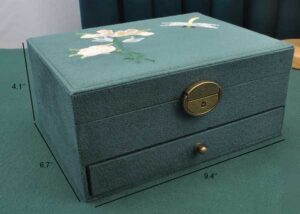 If you like this design, you will also like our green velvet jewelry box and drawer. We also invite you to discover the whole collection of velvet jewelry boxes, as well as all our jewelry boxes.