Green velvet jewelry box with earrings storage
The green velvet jewelry box is very soft and will protect your jewelry collection from scratches but also from UV rays that can damage the most fragile stones. This model is trendy and modern in addition to being very functional! Inside there are 8 hooks for your necklaces, 9 rings to store 18 small rings and a removable panel that can hold 70 earrings. Under the panel there are 9 small compartments that can be converted into a large jewelry storage.
You will also have a compartment long enough to store your watch or several fine bracelets. The drawer contains 4 large compartments and 2 smaller ones, knowing that it is fully removable if you prefer to use a large drawer for your larger jewelry pieces. This green velvet jewelry box is a great gift for any woman who has a beautiful jewelry collection and wants to take care of her most beautiful treasures!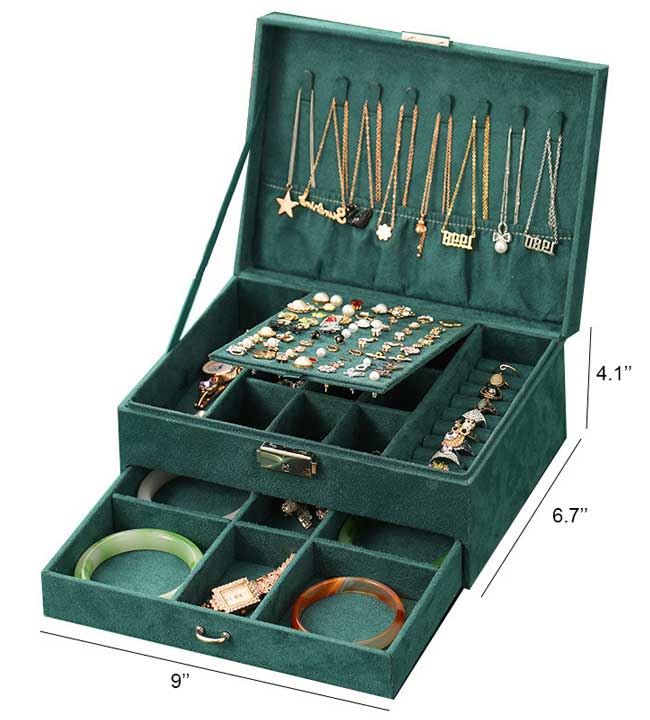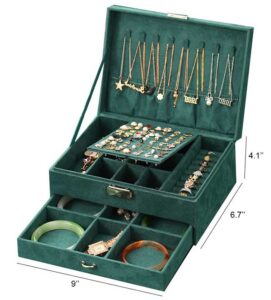 For a similar model but with even more earrings storage, discover our velvet jewelry box for earrings. Otherwise feel free to browse through our velvet jewelry boxes to see the different styles, as well as all of our jewelry boxes.