Large velvet jewelry box with ring storage
Are you a fan of necklaces, rings or earrings? You don't know where to put them ? Opt for this beautiful and velvet jewelry box large. Its interior is extremely soft which will preserve your most precious jewels from scratches! The jewelry box has 8 hooks for your necklaces so that they don't get tangled up. Very practical, you will also find a small elastic pocket to store your bracelets.
The main compartment has a full tray to store your favorite rings. Under the tray of this box are 4 large compartments for your sunglasses or brooches. And that's not all, as this model also has a drawer with 21 slots for your earrings and at the bottom of the drawer are 3 long slots for your bracelets. In short, if you are a fan of jewelry, especially rings, earrings and necklaces, this velvet jewelry box large for women is made for you!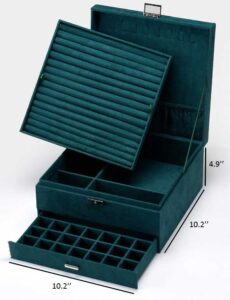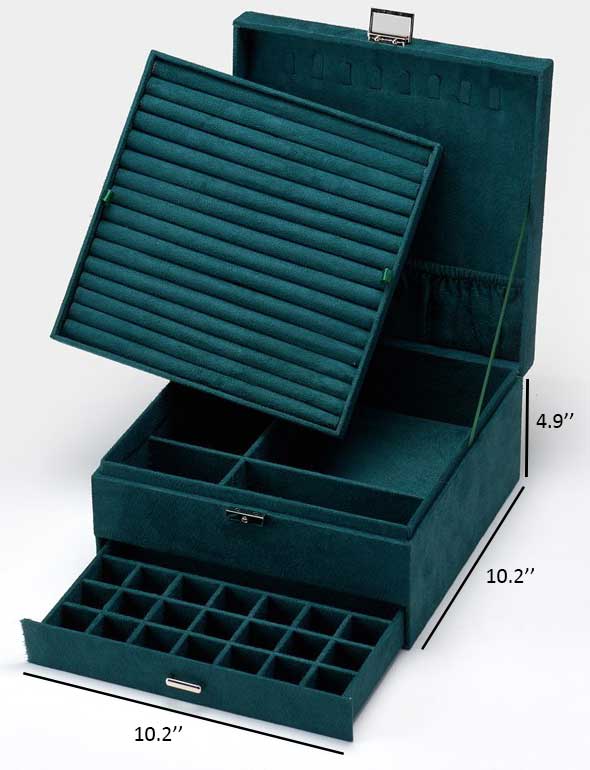 If you like this large velvet jewelry box but it's a little too big, feel free to check out our small velvet jewelry box. Or maybe you'd prefer a completely different style of storage, then we invite you to check out our velvet jewelry box collection, as well as all of our jewelry boxes.