Leather jewelry box for little girl
The little girls jewelry boxes is finished in pink or white PU leather. It is decorated with a young woman and has a very practical mirror to choose the perfect set!
This box is original with its flashy colors that transport us in a very childish and girly universe! Its soft velvet interior will allow you to safely store your jewelry collection.
Inside you will find different jewelry storage with hooks for your necklaces, boudins for your rings and of course several places for your ear jewelry.
This little girl jewelry box is available with or without decoration!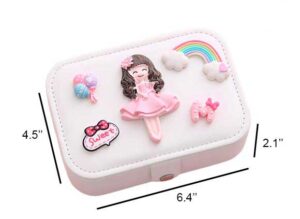 Want to customize your own box? The jewelry box decorator will allow you to stick strickers and make your storage unique. Feel free to browse the collection box child, and all our jewelry storage.