Velvet jewelry box with a drawer for small jewelry
The jewelry box velvet is now available in pink or blue and has 16 necklace compartments. This jewelry box is entirely covered with velvet, which makes it ultra soft to the touch but above all it will protect your most beautiful treasures! Inside you will now have 16 necklace compartments instead of 8 on the old model. The second floor has not changed since there are still more than 40 earring compartments and 15 boudins to store about 30 rings. As well as a compartment long enough to accommodate your bracelet or watch.
Under the removable earrings storage is 9 small compartments that can be modulated into one large storage. Under the second floor there are still 6 large compartments for your bracelets, cosmetics or brooches. Finally the drawer still contains 18 small compartments which is convenient for storing small fragile jewelry and a larger compartment for your bracelets or bracelets.
The closure of the jewelry box velvet has evolved and is now in gold steel and its key is equipped with a decorative pompom very trendy. This new model will appeal to women or girls who have a large jewelry collection and want to organize and protect it. Thanks to its improvements, this jewelry box is very functional and modern.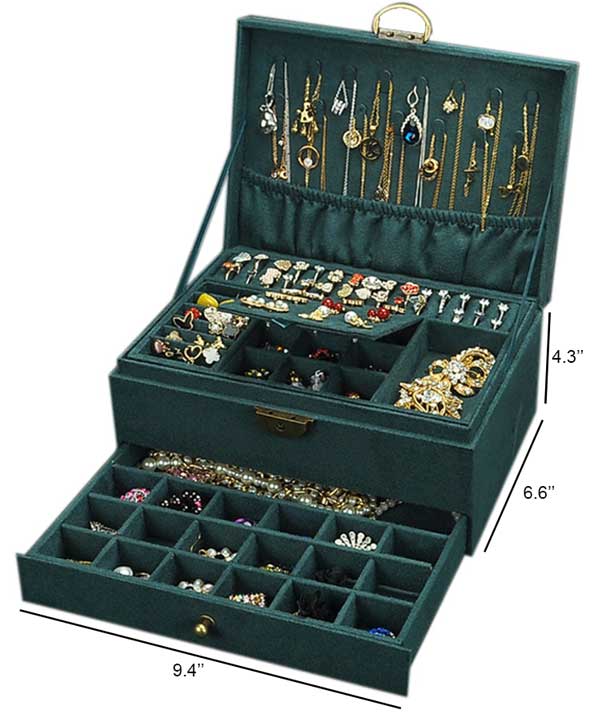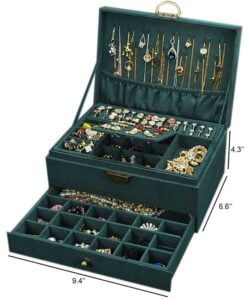 Looking for a pretty embroidered model? Take a look at our vintage velvet jewelry box, available in green. Feel free to browse the entire velvet jewelry box collection, as well as our jewelry boxes to find the perfect storage for your jewelry collection.