Girl jewelry box with earrings and watches storage
If you are starting to accumulate a nice collection of jewelry this model should suit you. This jewelry box for stud earrings is made of PU leather and has two cushions to store your watches and no less than 54 slots for your ear jewelry. Its interior is made of soft white velvet that will prevent your jewelry from getting scratched.
This box has 8 hooks for your necklaces, 9 rings rolls and 54 earring holders to store 27 pairs. Under the earring holder you will find 9 compartments to put your small costume jewelry. Our jewelry box for stud earrings also contains 2 watch holders (cushions are included). The tray is removable and underneath there are 4 compartments to put your cosmetics or rigid bracelets. This jewelry box for girls is very complete and functional!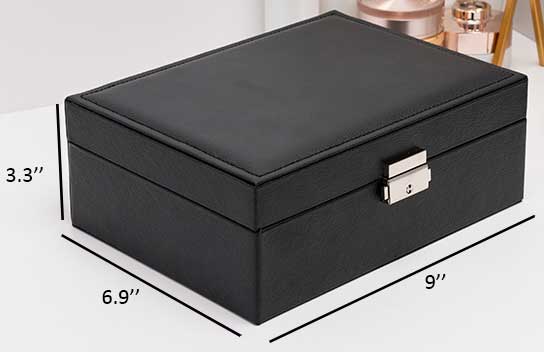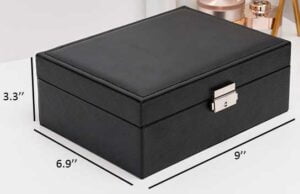 For a larger model with drawers, we recommend our 2 drawer jewelry box. Or maybe you prefer a completely different style of storage for your earrings, we invite you to discover our other models of jewelry boxes for girls, as well as all our jewelry boxes.