Jewelry box for girl with 2 drawers
Looking for a solution to store your jewelry? Our 2 drawer jewelry box can hold up to 30 pairs of earrings and several necklaces and rings! Available in pink, green and white. This model is finished in elegant PU leather with a soft velvet interior. It opens and closes with a golden steel latch that gives it a very chic and modern style. Inside there are 4 necklace holders and a small mirror.
In the jewelry storage you will find: 1 removable panel that can accommodate 15 pairs of earrings, 9 velvet pads to store 18 rings and 5 small removable panels to hang a total of 30 stud earrings. Not to mention the compartment for your watch and 9 small compartments under the removable panel. Our girl jewelry box also has 2 large drawers including 1 drawer that has 9 compartments for your small jewelry. This 2 drawer jewelry box will allow you to organize and store your jewelry collection and will please the ear jewelry lovers!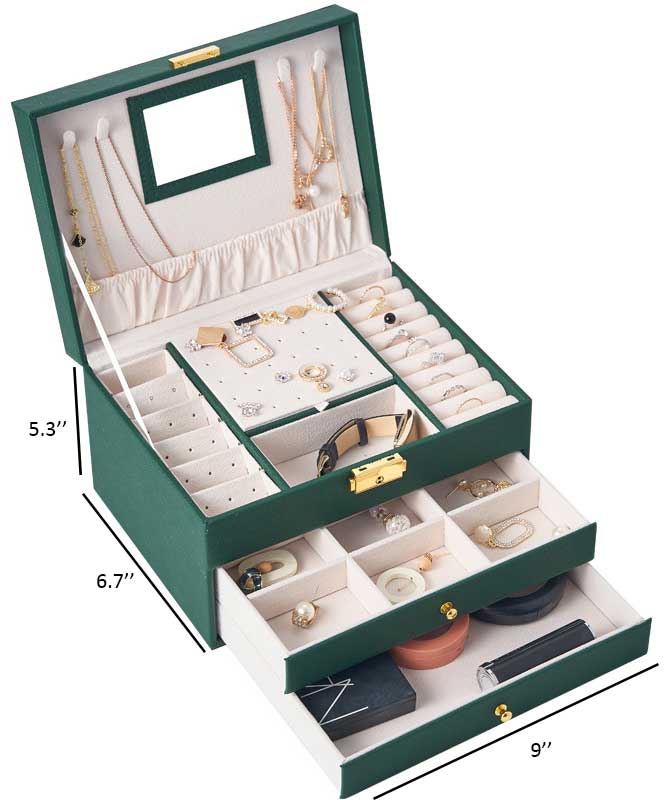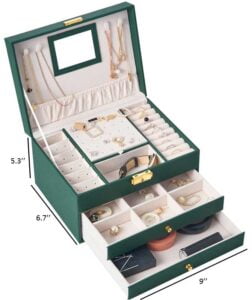 You like this model of jewelry box 2 drawers but you want a smaller size, please consult our large girls jewelry box with one drawer. Or maybe you prefer another style of box, we invite you to discover our other models of jewelry boxes girl, as well as all our jewelry boxes.