Green velvet jewelry box with drawers
Our velvet jewelry box for earrings will delight women who have a large jewelry collection! Entirely covered with velvet, this jewelry box will not damage your jewelry even if you have fragile stones such as ivory or pearls. Inside you will find: 8 hooks for your necklaces, 15 ring rolls for your rings and 1 compartment for your watch. If you have a lot of ear jewelry then this velvet jewelry box will please you.
It has a removable panel containing 24 holes to store 12 pairs of earrings. That's not all, as you also have 5 small removable panels with 4 grooves that will allow you to put a total of 20 dangling earrings. Under the removable panel of the earrings you will find 9 small compartments that can be modulated into a large storage.
Under the first layer you have 6 large compartments to store bracelets or cosmetics. Finally the drawer is composed of a large compartment to put a watch or fine bracelets, as well as 18 small compartments that will allow you to store your smallest jewelry pieces. As you can see, our velvet jewelry box for earrings will be perfect if you have a large jewelry collection, especially stud earrings or dangling earrings. It will also make a great gift idea for your wife or even your daughter!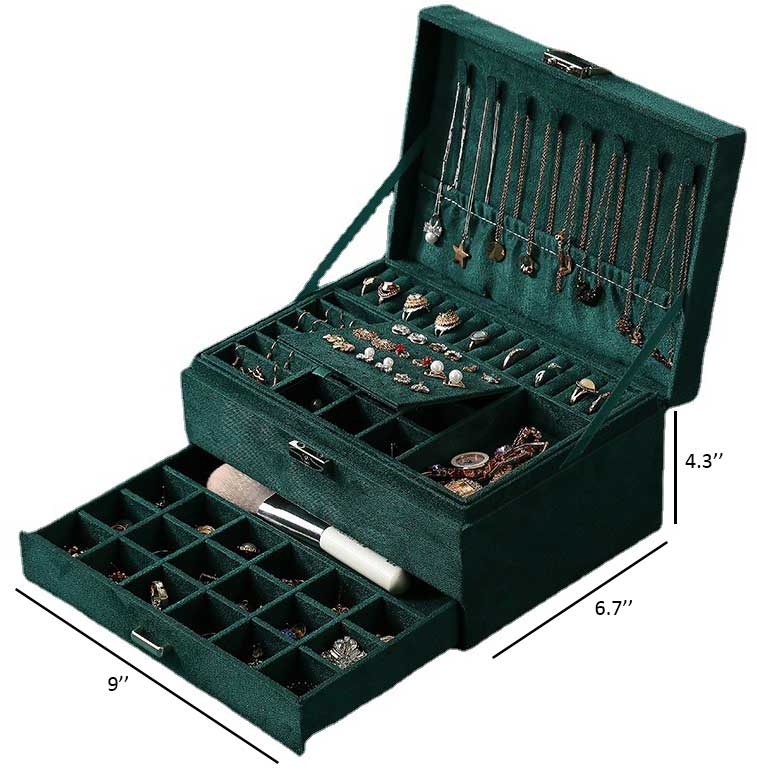 Looking for a smaller, but just as functional velvet model? Check out our double layer jewelry box. And if you're looking for a completely different style of storage, then we invite you to discover the velvet jewelry box collection, as well as all of our jewelry boxes.