Large luxury leather jewelry box for women
This beautiful extra large leather jewelry box is made of green or pink leather and has a soft beige velvet interior that gives it a luxurious look. This model of large jewelry box will delight all women who have a beautiful collection of necklaces and wish to preserve them from dust! Its luxury leather finish and beige velvet interior make it a very chic storage.
Inside this women's jewelry box you will find 5 hooks for your necklaces. There are also two removable panels with grooves, allowing you to store two necklaces that you wear for example very often or the ones you like the most! For rings or earrings you have 24 ring rolls and bracelets can be stored on one of the two panels with elastics so that they do not move.
In the drawers, you have a whole drawer with 12 individual necklace or bracelet storage. This type of necklace storage will allow you to safely store your most fragile pendants. This will prevent them from getting tangled up or the precious stones or your various ornaments from getting damaged! Finally, two drawers with 6 adjustable compartments and a drawer with 3 velvet watch holders. This extra large leather jewelry box closes with a steel lock.
You will have understood, our jewelry box is the model to offer to please the great collectors of jewelry and will allow to put in safety and to preserve your incredible collection of jewelry!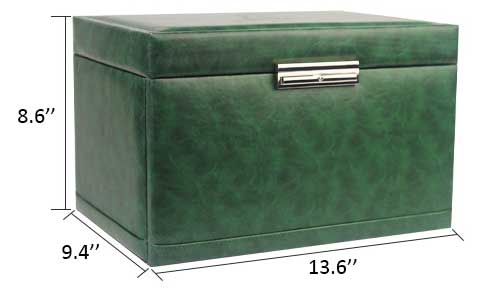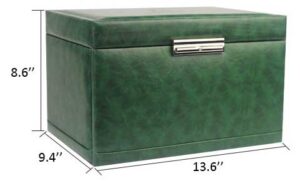 This model is too big for you? In the same style but more affordable, discover our leather jewelry box with lock. Or maybe you prefer a different style of jewelry storage, we invite you to discover our leather jewelry box collection, as well as all our jewelry boxes.