Leather storage case with lock and key
Our leather jewelry box with lock is available in pink, white, green or blue. It has 2 drawers and plenty of storage for your necklaces and rings. This storage unit will be perfect to help you organize, store and protect your jewelry collection. Its PU leather finish and soft velvet interior will not scratch your jewelry and each piece will have its place in the box. This will prevent them from bumping into each other and getting damaged.
Inside this women's jewelry box are 6 hooks for your necklaces or pendants, 7 ring rolls to store your rings and 1 compartment for your watch or bracelet. There is also a removable panel where you can store 36 earrings or 18 pairs. Under the panel are 9 small compartments that can be combined into one large compartment. Finally, our leather jewelry box with lock has 2 drawers: a drawer with 9 compartments for your small jewelry and a drawer with 2 compartments for your cosmetics or glasses.
The jewelry box is transportable thanks to its handle and closes easily with its golden steel lock (key included) which makes it a trendy and chic box.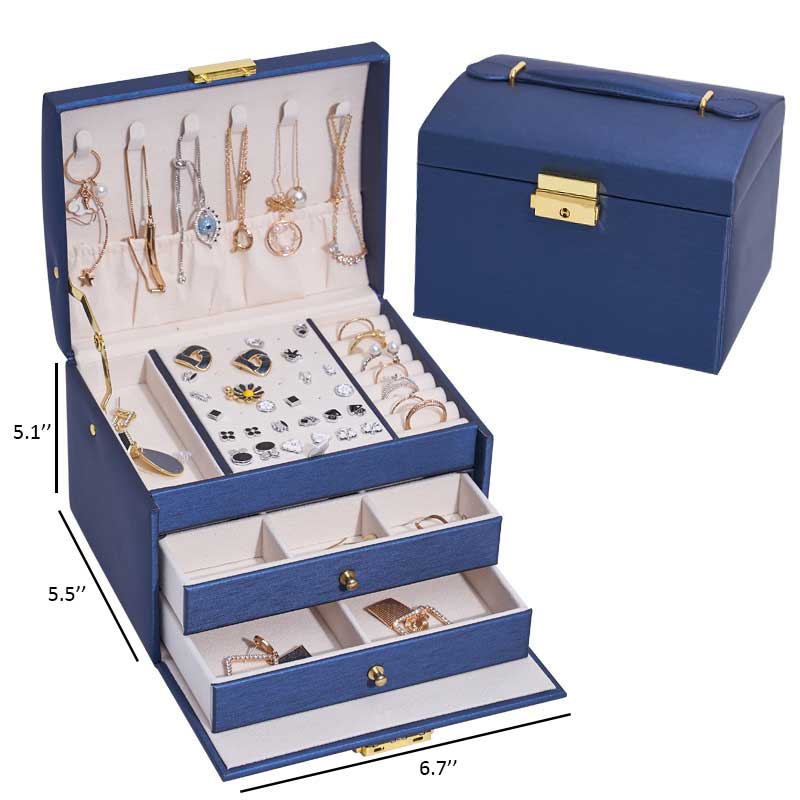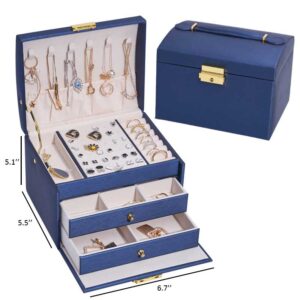 For a smaller model to take on vacation, opt for our jewelry box travel leather. Or maybe you prefer a different style of storage box for your rings, necklaces and other ornaments, we invite you to discover our collection of leather jewelry boxes, as well as all our jewelry boxes.