Jewelry box with mirror and drawer for girl
Looking for a large girls jewelry box to give as a gift or just for yourself? This model will be ideal if you have a large collection of ear jewelry or for young women who are starting to accumulate a lot of jewelry. This model has a PU leather finish and a velvet interior that will protect your jewelry from possible scratches.
Inside you will find 4 hooks for your necklaces or pendants, as well as a small mirror. There is also a large removable panel to store 15 pairs of earrings and 5 small removable panels to hang 30 pairs of stud earrings. In the end this large girls jewelry box can hold 60 earrings, which is sure to delight all ear jewelry fans.
This storage box also has 9 rings rolls to hold 18 rings and a compartment for your watch. Underneath the large earring storage box are 9 small compartments that can be removed to form one large storage box. Finally the drawer has 9 compartments to store your bracelets or small jewelry. The closure is made with a golden steel lock that gives it a very trendy and modern style.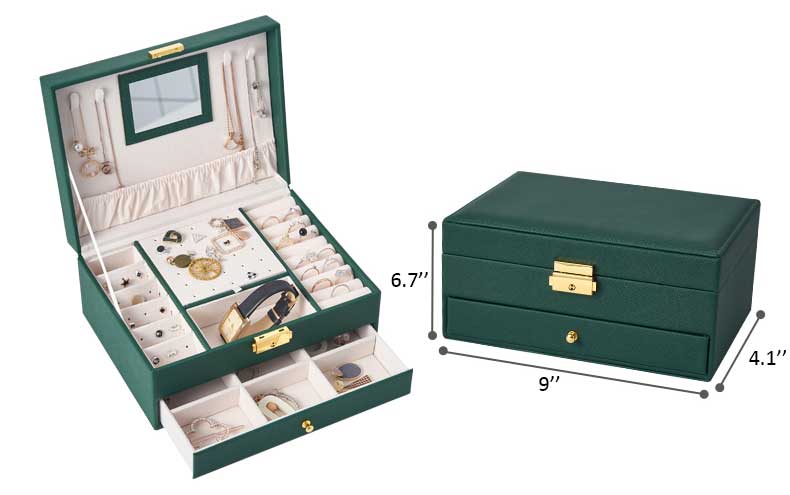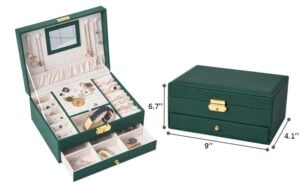 If you're looking for a more compact model, don't hesitate to discover our teenage jewelry box. Or maybe you want a different style of storage, we invite you to discover our collection of jewelry boxes for girls, as well as all our jewelry boxes.