Modern and elegant leather jewelry box
Our lovely Lockable Jewelry Box with Mirror features a leather finish and a latch locking system. A key will allow you to lock it to restrict access to your children, thus preventing loss or breakage of your precious little treasures.
This jewelry storage model is very versatile because it has many storage compartments adapted to most of today's jewelry! You can store your favorite rings in the rolls that will hold them perfectly. The compartments are versatile, allowing you to organize large jewelry pieces, such as brooches, large earrings or even your favorite bracelets. It also has storage for stud earrings, which you can simply stick in the slots provided.
Underneath the first layer are large compartments that offer the possibility to store your eye liner, lipstick or any other beauty product! Perfect for storing all the beauty accessories and treatments you use on a daily basis in one place. Your watch can also be stored on the velvet flocked cushion in one of the bottom compartments.
Also, the lid of this jewelry organizer box is equipped with a mirror that will allow you to admire your jewelry worn on you, to do your hair or makeup! Next to it, you will find small hooks to hang your long chains and necklaces. No more tangled pendants and broken chains thanks to this clever system.
Finally, this leather jewelry box has a soft velvet interior. Thus, your most beautiful jewels will be protected against scratches and shocks and will last in time. Although compact, this jewelry storage is very versatile and will suit many people because of its reasonable price and the possibilities it offers.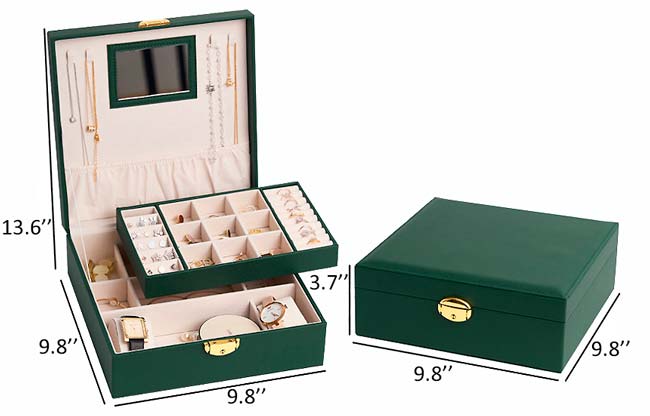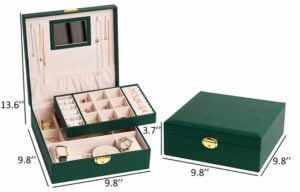 If despite the versatility of this beautiful jewelry box leather finish you do not find your happiness, do not hesitate to go see all of our mirrored jewelry boxes. You should find the model that suits you. Otherwise we offer a wide variety of jewelry boxes for everyone!