Leather jewelry box with drawers for women
Discover our beautiful large leather jewelry boxes for women. It has two removable drawers, as well as several storage spaces for your jewelry and watches. This box is trendy and modern since it has a padded finish on the top. The interior is entirely covered with ultra soft velvet that will protect your most beautiful treasures from scratches and UV rays.
This jewelry storage has 8 hooks for your pendants, 15 rings and more than 30 compartments for your earrings. Under the large removable panel you will find 9 small compartments that can be used as a large jewelry storage. The leather jewelry box is very complete since it is equipped with a watch holder (the cushion is included). The two drawers are composed of 20 compartments and 4 large storage. The drawers are adjustable if you wish you can remove the compartments to benefit from two large drawers.
The top of the box can be locked as the gold steel latch has a key. This leather jewelry boxes for women is very functional thanks to its multiple storage spaces and will delight all those who have a large collection of jewelry to store.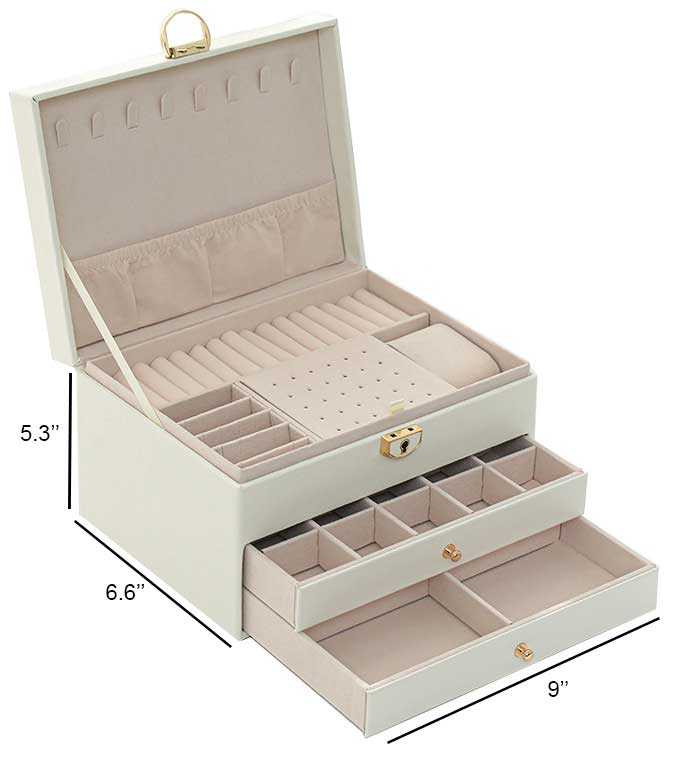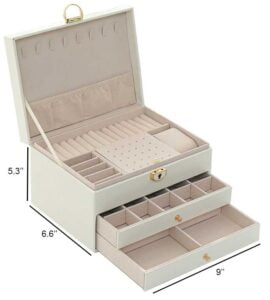 For a more modular model with a tray, opt for our jewelry storage box. Otherwise discover the whole collection of leather jewelry box, as well as all our jewelry boxes to find the perfect jewelry storage for you!