Large leather jewelry box with drawers for women
Want to store and organize your entire jewelry collection? Discover our large jewelry box with drawers and compartments. This PU leather jewelry box has a very nice finish thanks to its white stitching and its soft pink velvet interior. It has 8 hooks on each side, 16 places to hang your necklaces, necklaces or pendants. On the top you will find 4 large pockets to store your rings or earrings and a compartment for your rigid bracelets.
The 5 large drawers are composed of 2 large drawers, 1 drawer with 3 compartments, 1 drawer with 12 sections and a last drawer with no less than 20 small compartments for your earrings or small jewelry. Its mirror will help you choose the perfect set to match your outfit! By using a large quality jewelry box you protect your jewels from UV rays that damage the most fragile stones but also from oxidation and possible scratches.
In addition, this model will certainly give cachet on your dressing table or your dresser. The drawers are fully removable and the two sides close with a snap. Not to mention the steel closure that gives a very chic touch to this large jewelry box with drawers.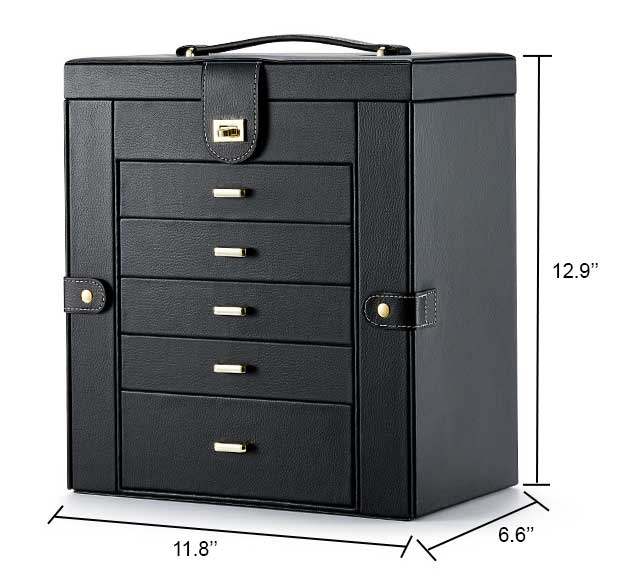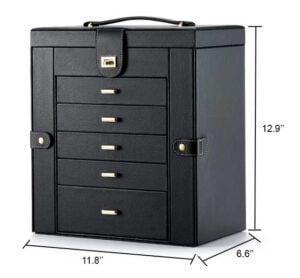 Vous partez souvent en vacances et vous avez beaucoup de bijoux ? Découvrez notre boîte à bijoux et son format voyage qui est inclus. N'hésitez pas à parcourir la collection boîte à bijoux femme pour découvrir tout nos modèles, ainsi que l'ensemble de nos boîtes à bijoux.