Small leather travel jewelry storage with latch and mirror
Looking for a small jewelry travel case leather? Despite its small size, this model has an extra mirror and several compartments for your jewelry. This small case designed in PU leather is ideal to easily carry your most beautiful jewelry during your travels. It has 3 hooks to hang your necklaces, 6 places to store your rings or earrings and 4 removable compartments for your small jewelry.
This jewelry case also has a mirror that will be perfect to help you choose the right set or even for a makeup touch-up when you are on the go. The jewelry box will easily slip into your purse or your luggage for a well-deserved vacation in the sun. By using this jewelry travel case leather you will protect your favorite jewels from dust and UV rays.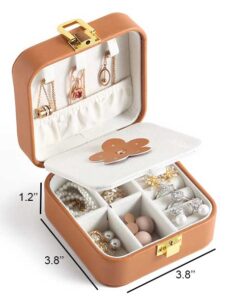 For a more modern model with a nice glossy finish, opt for our jewelry traveling case. And if not, don't hesitate to consult the whole collection of travel jewelry case to discover all our models, as well as the whole collection of jewelry box.