Jewelry box and leather watches for men
Need storage for your jewelry and watches? Opt for this large jewelry box for men in PU leather! It has 12 slots to store all your watches and an extra mirror.
If you love watches as much as jewelry, this jewelry and watch box will allow you to store your entire collection in one box! The gray interior is very soft and the different storage spaces will allow you to organize your signet rings and necklaces.
The top of the box is dedicated to watch storage, while the drawer will allow you to store your rings and earrings. The mirror will be perfect to easily match your jewelry to your outfit!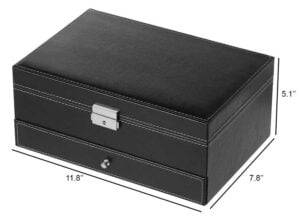 If you prefer a model with a transparent glass, go and see our mens watch jewelry box in leather. Feel free to browse through all our models of jewelry boxes for men, as well as all our jewelry boxes.