Velvet bracelet holder with 5 bows
Our bracelet jewelry holder is made of velvet and is available in red, black, grey or green. This model will allow you to hang more than 60 bracelets or even watches. On each floor you can hang 10 to 20 bracelets depending on the size and thickness. Velvet is a very soft material which will avoid scratching the precious stones of your bracelets or simply your watches. In addition, velvet will hold your jewelry so it will not slip. Using this bracelet jewelry holder, you will only need one look to choose your favorite accessory.
The different flanges can be removed very quickly so that you can easily recover your bracelet. Tip: you can also hang long necklaces on the highest flanges!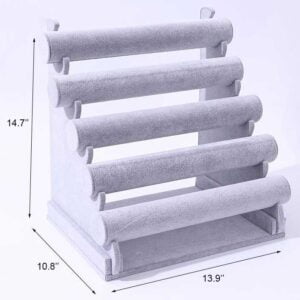 If you like this model, you will also like our large holder bracelet and its wood and metal finish! Do not hesitate to consult the bracelet holder collection, as well as all our jewelry holders to discover the different displays.