Winder for 3 automatic watches
This automatic winder for watches is made of ebony wood with a lacquered piano finish. Its tempered glass window and soft lighting make it a very chic and modern piece. Its touch screen will allow you to choose the most adapted programs according to the specific needs of each of your watches.
On top you will find 5 classic velvet watch holders, which will allow you to store your favorite watches safely.
Up to 22 programs available, rotation options range from 300 to 2,200 TPD. TPD stands for "Turns Per Day". In other words, it corresponds to the total number of revolutions per day that your watches will make thanks to your winder.
Choice of rotation mode:
Clockwise
Counter-clockwise
Bidirectional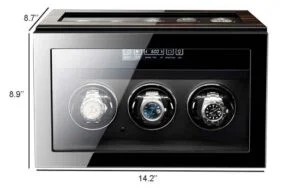 For those who have 6 watches, our Automatic Watch Winder should meet your needs with its 6 slots. Other watch winder models are available. If you don't have automatic watches, we also have more classic watch boxes.