Beautiful wooden watch winder with 6 slots
Looking for an Automatic Watch Winder? This model has 6 slots and 5 "classic" velvet compartments for your watches! Its high quality wood finish and transparent glass will allow you to admire your most beautiful Rolex watches under a soft LED light.
The cuffs are adjustable which will allow you to adapt to a large number of models without putting pressure on the bracelet.
This winder has 22 programs and the rotation options range from 300 to 2,200 TPD. The acronym TPD stands for "Turns Per Day". In other words, it corresponds to the total number of revolutions per day that your watches will make thanks to your winder.
Choice of rotation mode:
Clockwise
Counter-clockwise
Bidirectional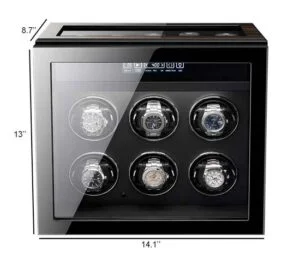 If you don't need as many slots, take a look at our watch winder box with its 2 slots for watches. We also have various versions of automatic watch winders, as well as wooden and men's watch boxes.